With the weather changing, parents are beginning to search for indoor activities that their children can enjoy. I feel activities on the computer can be very beneficial for your child, as it can help them develop their own computer skills. I would like to introduce you to
Scrap Coloring
which also will develop your child's creativity.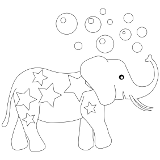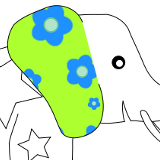 SrapColoring.com
is a fun interactive coloring book for your child to enjoy. Your child can select from a variety of pictures and themes. Once they select the picture of their choice, they have several bright colors and patterns to work with. Your child can simply select the color they want, then click on the part of the picture where they want the color added. If your child wants to use a pattern, they can select the two colors that they want in the pattern. If your child prefers to color with markers and crayons, you can print a black and white copy from your printer. Another fun feature is the
"First Name Coloring Page"
. Here you or your child can create a custom coloring page with a name or written message. Scrap Coloring can create hours of creative fun for your child.
Scrap Coloring also has some fun features for adults. If you are into digital scrapbooking and or enjoy making backgrounds for your personal websites and pages, Scrap Coloring can create fun colorful patterns with their Pattern Generator. To try this out and for further instruction, you can select the
"Pattern"
tab on the menu bar.