Hasbro
brings you and your family several products that will bring smiles to your faces. They have games to bring you closer together and toys to educate and entertain your children. As you look through Hasbro's site you will find several toys you loved growing up, which you can share with your children. I appreciate the fact that Hasbro not only keeps the classic toys around, but they are also coming out with new and improved toys.
Hasbro
offered me to review any toy of my choice free. They were very helpful as they guided me to toys that would fit my children's ages and which were top sellers. I went with a few toys they recommended and was pleased with their helpful insight and their communication. Know that I have worked with them personally with this gift guide, I have even more confidence in Hasbro as a company.
My children and I reviewed the following toys:
"MR. POTATO HEAD FRYER FIGHTER" (Approx Retail Price: $9.99 each)-
Fryer Fighter is one of the MR. POTATOE HEADs newest additions. This is one of those classic toys that will be around for a long time. Surprisingly, I never grew up with a MR. POTATOE HEAD so I was really excited to finally see what all the fuss was about. My youngest who is 2, loves to put piece the MR. POTATOE HEAD together. My son who is 4 also enjoys joining in on the fun. He constantly ask for more pieces so that he can create new faces. With it being such a reasonable price for extra assortments, I feel it is worth adding to. I also fell purchasing a second Mr. Potatoe head well worth it. This is a toy that can really help develop your childs imagination.
KOTA & PALS Stompers DINOSAURS (Approx. Retail Price: $24.99)-
Knowing how big dinosaurs are with little boys I had to select the Kota & Pals Stompers Dinosaurs. I have actually been eyeing these dinos for some time and have seen them at several retail stores.
KOTA & PALS stompers was a hit. My son loves how the dinosaur becomes alive as it walks and roars. The triceratops, which we received, has become my sons little buddy. He constantly brings him in our car and talks to the triceratops as we travel. Now that we have a little dinosaur living in our home, my son loves learning more about dinosaurs, what they eat and where they cam from. This has become a great opportunity to teach him.
PLAY-DOH BURGER BUILDER (Approx. Retail Price: $14.99)-
Both my children love PLAY-DOH. They also both love hamburgers and enjoy helping me in the kitchen. I was pretty sure they would be huge fans of this newest PLAY-DOH accessory. Of course they were.
This has become a toy we pull out everyday. With the weather getting cold it is hard to stay entertained in doors for long. I am happy to say that the PLAY-DOH BURGER BUILDER has made this much easier. My children can sit and play with it for about an hour or more. I am then able to get things done or enjoy pretending with them as they make their hamburgers and potatoe chips.
"
The PLAY-DOE BURGER BUILDER includes interchangeable parts for making tomatoes, lettuce, buns, and more. In addition, kids can crank out pretend potato or pickle chips with the exciting TWIST-A-CHIP Super Tool. Set also includes five 2-ounce cans of colorful PLAY-DOH compound.
"
To Buy:
Each of these and other Hasbro toys can be found at most major toy retailers nationwide and on
HasbroToyShop.com
.
Giveaway:
One reader will win a Dino Roars Stomper.
To Enter:
Go to
HasbroToyShop.com
and look around. Come back to this link and tell me which toy your child wants from them this Christmas!
*Extra Entries*
- Grab my Christmas Gift Guide Button below
- Grab my "Catch the Drift..." button
- Subscribe to "Catch the Drift..."
- Follow me on
Twitter
(Mama_Snow)
- Become a fan on
Facebook
- Blog about this post or Tweet it! (Be sure to leave the link)
- Share your favorite holiday tradition!
Rules:
Be sure to leave a comment telling me what the entry is for. Leave a separate comment for each entry. Also be sure to leave an email address for me to contact you. A winner will be selected randomly using Random.org. They will have 48 hours to reply or a new winner will be chosen. US only!
Giveaway Ends: Dec. 7, 2009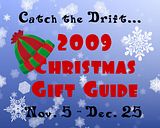 <a href="http://hail2thesnowqueen.blogspot.com/2009/09/2009-christmas-guide.html"><img style="float:center; margin:0 0 10px 10px;cursor:pointer; cursor:hand;width: 160px; height: 140px;" src="http://i254.photobucket.com/albums/hh95/snowbabe81/buttons/th_snowflake2-1.jpg" border="0" alt="" /></a&gt