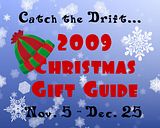 Now that I have a family of my own, we are beginning our own family traditions. I am so excited to share these fun ideas and events with my own children, as I have many fond memories of traditions that I grew up with in my childhood home. These traditions seemed to have brought my family closer together and add to the spirit of the season and/or event.
I was so excited when I was contacted by
"Elfing Around"
. I remember hearing about these elves last year and loving the idea. When "Elfing Around" offered to send me my own Elves for free to review, I jumped to the opportunity. After receiving our elves and reading through the instructions and looking through the supplies that were included, I am even more excited to continue this new tradition year after year. Let me tell you more.
Each elf you purchase will include the following:
-"Letter from the elf" and envolope
-Official Wish list and Envolopes
-Parent Adventure Guide Book (12 nightly suggested Elf Adventures and Postcards from the elf)
-2 Elf Tattoos
Everything is written in detailed instructions. A couple of days before the elves arrive, you will leave a pre-made letter out for your child or children. This letter will include your child's name and inform them of their special visitor who will be arriving to their home soon. Also included in this letter will be the name of the elf who will be visiting your child and a little about their life at the North Pole.
Once the elf or elves arrive your child or children will become part of an interactive adventure. For the next 12 nights before Christmas the elves will come alive and leave a magical scene for your child to wake-up to. I even caught myself giggling with excitement after reading through the Parent Adventure Guide Book. One of the Adventures has your child waking up to a mess in the kitchen (not too big since you will be cleaning it up) and a bowl of what is known as reindeer food. The guide also gives you some ideas as to what you will want to use in the food and what you can do with it on Christmas Eve.
There is so much more I could share with you, but that would ruin all the fun. Be sure to check out the "Free Stuff" they offer at
Elfing Around
. This includes several printable pages you and your child can enjoy.
I cannot wait to introduce my children to the two adorable elves that will be visiting our home this December. There is a girl elf for my daughter and a boy elf for my son. Having an elf per child allows each child to feel a part of the fun. This will also assure that each child will have their own letters and gifts from their elf. I am certain this years christmas will be extra special with the elves visiting. I can't wait to carry on this tradition years to come.
This was a Classy Closet "Mega Review". If you would like to read more reviews you can go to these sites!
A Psych Mommy
: "We were looking for a new holiday tradition in our house and elfing around is perfect! What a fun way to make the magic of Christmas come alive!"
A Simple Kinda life
: "This year I'm excited to integrate Elfing Around® into our family traditions! I'm going to enjoy it and I'm sure my kids will too!"
Buy It:
You can Purchase your own elves from Elfing Around at their site
ElfingAround.com
!
Giveaway:
One person will win their own elves to visit their house this Christmas.
How to Enter:
Visit
Elfing Around
and look around their site. Come back and tell me something you found that you and/or your children would enjoy. (This can be anything from items you can order to the free stuff they offer for your children online)
*Extra Entries*
- Share your favorite elf name!
- Grab my Christmas Gift Guide Button below
- Grab my "Catch the Drift..." button
- Subscribe to "Catch the Drift..."
- Follow me on
Twitter
(Mama_Snow)
- Become a fan on
Facebook
- Blog about this post or Tweet it! (Be sure to leave the link)
- Share your favorite holiday tradition!
Rules:
Be sure to leave a comment telling me what the entry is for. Leave a separate comment for each entry. Also be sure to leave an email address for me to contact you. A winner will be selected randomly using Random.org. They will have 48 hours to reply or a new winner will be chosen. US ONLY!
Giveaway Ends: Nov. 30, 2009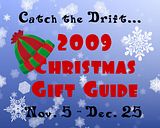 <a href="http://hail2thesnowqueen.blogspot.com/2009/09/2009-christmas-guide.html"><img style="float:center; margin:0 0 10px 10px;cursor:pointer; cursor:hand;width: 160px; height: 140px;" src="http://i254.photobucket.com/albums/hh95/snowbabe81/buttons/th_snowflake2-1.jpg" border="0" alt="" /></a&gt