I want to welcome back
Carissa
who has a wonderful shop on
Etsy
which carries handmade purses and bags. She also had a bag featured in the June issue of "Good Housekeeping" magazine and was featured in the inspiration gallery of Amy Butler's newest software. Some of you may remember the giveaway Carissa sponsored earlier this year, she is now back offering another great prize. First though, I thought it would be fun to get to know Carissa a little better. Here is what I learned from our interview.
Mama Snow-
Tell us a little more about yourself...
Carissa-
"A little about myself, hmmmm... I am 37. I live in Connecticut with my two crazy little boys and my very adventurous, mountain climbing husband. I have a cute little house and a great garden. I love hiking, camping, and occasionally taking those uphill treks with my hubby. I graduated from the University of Pittsburgh in 1994 with a degree in nursing. I have been an ICU/trauma nurse ever since. I am currently working in an open heart ICU, but only on the weekends. The rest of the week is spent taking care of the family and of course, sewing. Another interesting thing about my family is that my little boy, who is 9, will need a liver transplant at some point. You would never know it to look at him though. He is just your typical 9 year old, active, little boy."
Mama Snow-
How long has your business been around?
Carissa-
"Officially, 2 years. Unofficially, 4. It was more of an idea/hobby for 2 years and then one day I stumbled upon Etsy and the next day opened my shop."
Mama Snow-
What inspired you to create your shop?
Carissa-
"I have always loved to design and sew. I took sewing classes in high school, but my teacher hated me. I was such a rebel and never wanted to follow a pattern or do anything the "proper" way. It drove her nuts. My way just seemed to make more sense. What got me in trouble then has really helped me now. I love to create my own patterns and I love the process of turning a yard of fabric into something wonderful. Anyway, my "hobby" was taking over my husband's side of the closet so I decided I needed to find a practical way to manage all of my creations."
Mama Snow-
Is this a full time or part time business?
Carissa-
"It is a full time business. I have been working really hard over the past year and it is really starting to pay off. I had one of my bags in the June issue of Good Housekeeping magazine this year and I was also featured in the newest Amy Butler software. My stuff is in the inspiration gallery. I have also been busy getting my bags into some great boutiques along the East Coast."
Mama Snow-
What is one of your favorite creations?

Carissa-
"I love making backpacks, but recently did one in Amy Butler's Water Lotus that I loved."
"I am hoping to get some fall colors and prints into the shop in the next few weeks. I have also been thinking about experimentiing with leather. I think it would be cool to do some bags with beautiful leather on the outside and fun, bright prints on the inside."
Discount:
Carissa Black
is offering 10% off your entire order when you mention "Catch the Drift with Mama Snow" in the notes to seller at checkout.
Where to purchase:
You can view much of Carissa's work at
CarissaBlack.com
or you can purchase at her
Etsy
shop.
Giveaway:
One winner will win the Carissa Black's "Amy Butler's lacework and green polka dots" shopper. The retail of the shopper is $30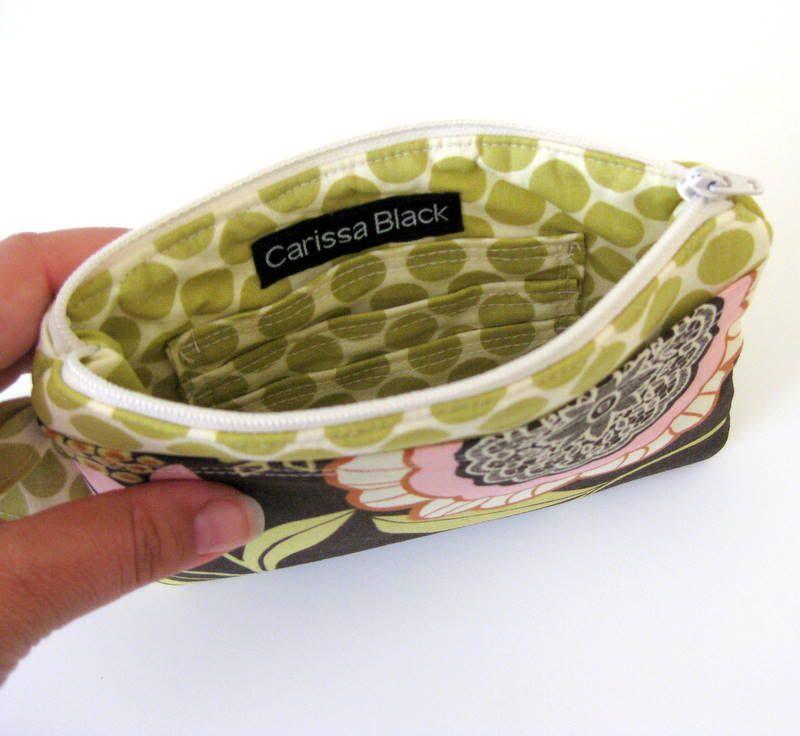 How to Enter:
Go to
Carissa Black's Etsy
shop or
site
and look around. Come back and tell me one of your favorite items!
*For Bonus Entries*
- Grab my button
- Subscribe to "Catch the Drift..."
- Follow me on
Twitter
(Mama_Snow)
- Become a fan on
Facebook
- Blog about this post or Tweet it! (Be sure to leave the link)
-If you make a purchase at Carissa Blacks store gain 3 more entries!
Each of these can give you another entry making (6) entries! Please leave a separate comment for each one and what it is for!
Rules: In order to win, you must provide a valid email. I will be notifying the winner by email. The winner will have 48 hours to respond to me with their name and address. If this information is not received within 48 hours new winner will be chosen. This giveaway is opened US residents only.
Giveaway Ends: September 29