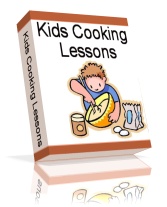 Some of a child's best memories are created while spending time with mom or dad. My own mother and I shared many memories in the kitchen. I remember my favorite thing to make with her was cookies. We made all sorts of cookies like sugar cookies, chocolate chip, oatmeal and my favorite, candy cane cookies. Now a mother myself, my own kids are always begging to help me cook. Allowing them to help wasn't as easy as I had expected it to be. I have found that some recipes just don't call for children's hands. Some recipes are just not children friendly. I am so excited to share with you "Kids Cooking Activities". This is a site geared toward children who love to cook and parents who are beginnings to show their children around the kitchen. This wonderful site has a variety of information and supplies for you and your child to use. I have been able to review several of their ebooks includeing an ebook from their sewing site called "Kids Sewing Projects".
Since my son is a little to young for sewing we have yet to try out the sewing projects. l can tell you how fun the sewing projects look. They are all organized by levels, starting with level one. Each project you pass prepares you for the next level which is a more advanced sewing project. All of these projects items the children can use and display in the home.
As for the cooking ebooks I recieved the Cooking Unit which included four books. All ebooks included wonderful information. Our favorite had to be the Kids Cooking Lessons. This has made cooking in the kitchen so much easier for my children and I. It has provided me with tips on how to get my kids involved and how to teach them kitchen safety. Like the sewing ebook, Kids Cooking Lessons is also set up with levels. There is the Assistant Chef (ages 3-6 years), Chef In Training (ages 7-11), the Junior Chef (ages 12-15) and the Senior Chef (ages 16-19). Each of these age groups are provide with all the information they need to succeed in the kitchen. Since my son is 4 we gave been focusing on being Assistant Chefs. I have seen my sons confidence grow and I have been proud of his love for helping mommy cook. Even my youngest wants to get in all the fun (although her idea of helping is a little different then mine).




Each level has its own recipes that the age group can use. My son and I have had so much fun trying them. The great part about the recipes in the Assistant Chef section is that they can be used for parties and play groups. In our neighborhood we have set up a schedule where once a week a different couple wathes all the kids so the other couples can go out on a date. I love planning crafts and activities for the kids. This last time I decided that I would make "Spider Crackers, a recipe from the book, with all of the children. It was a hit and all the children loved them. I made these with children ranging from ages 1-9. Everyone ate them too!
There is a lot of information in these ebook and I look forward to learning more. I think the sewing and cooking programs are terrific for children who need to develop their skills, children who love love cooking and families who love spending time together.

Giveaways:
Their will be two winners. One will win the Cooking Lessons for Kids and another person will win Sewing Projects for Kids.
To Enter
Decide which you are most interested in (sewing or cooking for kids). Which ever you want to win, you must visit that specific site wether it be
"Kids Cooking Activities"
or
"Kids Sewing Projects"
. Look around and come back to tell me something new you learned or liked about the site. You will find all their categories and topics on the left side bar.
*Bonus Entries*
-Add my button
-Subscribe to my feed
-Post this giveaway on your blog, twitter or facebook!
Please leave a separate comment for each one and what it is for!
Rules
: In order to win, you must provide a valid email. I will be notifying the winner by email. The winner will have 48 hours to respond to me with their name and address. If this information is not received within 48 hours new winner will be chosen.
This giveaway is opened to anyone who can download an ebook!
Giveaway Ends: March 31