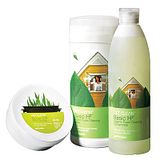 My first priority is my family. Two very special people in my family are my children. I want what is best for them and their health. This is why this year I am decided to use more "Natural" and "Green" products. This last year I went to a bloggers convention in Florida and stayed with my cousin. While staying with her I learned a lot about
Shaklee
and their natural products. After hearing all about the benefits and the money I could save, I decided to purchase my own products. Yes, I payed for these myself. First let me share a little more about Shaklee.
Shaklee is the number one natural nutrition company in the U.S. and has been around for over 50 years. Shaklee has made it part of their job to make the planet healthier along the way.

"We were doing it back when green was just a color and biodegradable was barely a word. In fact, as early as 1960, we made one of the first biodegradable household cleaners ever. And we were the first company in the world to obtain Climate Neutral™ certification and totally offset our CO2 emissions, resulting in a net zero impact on the environment.

We do what we do because we think it's essential to do our small part as part of the movement to make people and the planet healthier. In doing so, we believe each of our contributions put together will create the major change we wish to see in the world."
*Note to Oprah Fans:
Shaklee's "Get Clean" products were on Oprah's favorite things.
Review:
Too many times you hear of these companies who provide opportunity for you to earn income if you sale their product. Many times they try to sell you on the money you can make by leveraging your friends rather than the product itself. Doesn't that make you questions the product? These type of companies totally make me skeptical. However, Shaklee sales the product and it's product could basically sale itself. You can order the product without becoming a distributor. Or to save money you can sign up for a "Lifetime" membership for only $19.95. Yes, this is a lifetime membership and you will not have to pay it again, plus you will save 20% on all Shaklee products. Because Shaklee has been around for over 50 years, you don't have to worry about ever losing your membership.
After using
Shaklee
products for a couple of months, I am sold on Shaklee. Knowing I will continue to purchase Shaklee Products, I payed the $19.95 to become a member. Now I save even more on these awesome products.
Basic H2
I LOVE this product. I ordered the Basic H2 16 FL. OZ. bottle. Since the Basic H2 is concentrate, this one bottle makes "48 Gallons" of different cleaning solutions. Basic H20 can create an All-Purpose cleaner, Window and Glass Cleaner and a Degreaser with just a small amount of solution and water. I have had my bottle since Beginning of November and still have most of my bottle left. This has saved me so much money!
Picture of my Basic H2 before opening it
Picture of my Basic H2 after opening it and creating three different 16 oz. solutions (All-Purpose, Windows & Glasss Cleaner and Degreaser). As you can see I still have the full bottle left after one use.
I love the Basic H2 for wiping down tables, spells and smudge marks. It works wonderfully. I also highly recommend this solution for windows, glass and dusting. It works just as good as all the other cleaning products I have used. The only difference is it is all natural, it is safe for your children to be around and can be used as a multiple cleaner with just changing the amount of solution added. If you have wood floors or tile this is a natural product that will do the job without damaging the beauty of your home.
If you choose to order the Basic H2 I also recommend getting the Get Clean® 16 oz. Spray Bottle 3-Pack. This way you have 3 spray bottles for three of the main solutions you use in your home and they are already marked for you.
Basic H2 is $12.15 or if you become a lifetime member you only pay $10.35
Remember

this comes concentrate and one 16 oz. bottle makes up to 48 Gallons of cleaning solutions!
Get Clean® Super Microfiber Window Cloth
I need to get more of these. They are great for wiping down windows and I even use it on my granite counters in my kitchen. This cloth absorbs water and doesn't leave water marks. It is also washable so it saves me from using too many paper towels.
Nature Bright Laundry Booster
Once again, I loved this product as well. I use this in all of my loads of laundry. They come out looking just as bright as before and smell so fresh. This has even been great to use to get stains off of clothes such as ketchup, chocolate and more. Directions on using for laundry, soaking and stain removal are found on back of the bag.
Scour Off Heavy Duty Paste
What is the number one reason you hate cleaning your oven? I can say mine is the harsh chemicals used and smell it spreads. You are not going to believe it but Scour Off has no smell. Not only does it have no smell, you can use it without gloves. Other things you may want to use Scour Off on are for cleaning tubs, sinks, and tiles.
I loved cleaning the oven for the first time in my life. I also could do it with my youngest awake and didn't have to worry about her trying to help and getting too close to any chemicals. Scour Off is like all of Shaklee products...
Nontoxic
Natural abrasives
No harsh chemicals
Biodegradable surfactants
No phosphates
This has got to be one of my longest reviews yet. I am so happy I made the switch to Shaklee. I feel more comforted knowing my son who has asthma won't be exposed to harsh chemicals and my youngest isn't in any danger if she come in contact of them. Last, but not least, Shaklee has a 100% money back guarantee (You can try the whole thing and decide you don't like
it and get all of your money back). Shaklee is one company that stands behind their products.
*If any of you have questions on Shaklee you can contact
Gretchen Henderson
at
steadyclimb@mindspring.com
Giveaway:
After falling in love with
Shaklee
I asked my cousin if she wanted to do a giveaway. I told her of my review and thought a giveaway would make it that much better. She agreed and
one lucky winner will win a 16oz. Basic h2, 3 spray bottles and mirror cloth.
To Enter you MUST:
Visit
Shaklee
, go to "Shopping" and look around at all of their products. Keep in mind that they have much more than cleaning products. Come back and tell me what product you would like to try!
*Extra Entries*
- Grab my "Catch the Drift..." button
- Subscribe to "Catch the Drift..."
- Follow me on
Twitter
(Mama_Snow)
- Become a fan on
Facebook
- Blog about this post or Tweet it! (Be sure to leave the link)
- Tell me what you do to save our planet.
Rules:
Be sure to leave a comment telling me what the entry is for. Leave a separate comment for each entry. Also be sure to leave an email address for me to contact you. A winner will be selected randomly using Random.org. They will have 48 hours to reply or a new winner will be chosen. US only!
Giveaway Ends: Jan. 25, 2009