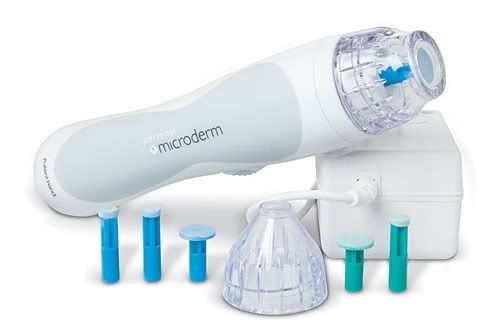 Growing up I always seemed to have fairly good skin. I had my breakouts here and there but nothing that really bothered me about my appearance. Since having babies my skin has changed or maybe it is just age? Either way I have had more reoccurring breakouts which have left behind some acne scars, colors changing in my skin causing uneven skin tones on my face and dry skin. I have defiantly become more self conscious.
I had been hearing a lot more on Microdermabrasion and even tried the Mary Kay Timewise Microdermabrasion which did make a small difference, but the results only seemed to go so far. My acne scars never really went faded, I still had mild acne and some uneven skin tones. I knew that if I wanted a complete change I would have to look into something more professional and more expensive. Pretty much I decided to give up. Until I was contacted by SkinCareRx.com....
I have worked with
SkinCareRx.com
in the past and was aware that they carried some of the top beauty brands. They recently started carrying a
personal microdermabrasion
system the Personal Microderm. This is said to be
"just like a professional microdermabrasion treatment but without the cost and hassle"
. SkinCareRx.com wanted to invite me to review this top of the line products and said they wanted my "HONEST" opinion good or bad. They were so sure I would like the product and I just couldn't turn this opportunity down.
Review:
The review as a success!!! The Personal Microderm cleared up what home microdermabrasion products couldn't. After just one week my skin felt moisturized and smooth. After using only 3 weeks I was sold. My acne has almost completely gone away, my deep acne scars have faded tremendously and my skin tones are so much more even. Obviously seeing is believing so I took before and after pictures which I posted below.
The arrows point to my most troubling areas on my face. My forehead is always breaking out. It seems the sides constantly have acne showing up. As for my chin you will notice my acne scars which have been on my face for at least a year or more.
Here is an even better view of my before and after of my acne scars. All these pictures were taken with no makeup and a recently washed face! Don't you love the even skin tones and smooth skin after the 3 weeks. Trust me when I say the results are even more noticeable in person.
The Personal Microderm is a $180 value. Microdermabrasion is known to improve early texture changes, sun damaged skin, uneven sun freckling, mild acne, and conditions where there is a buildup of dead skin. You only have to use the Personal Microderm once a week and right after the treatment and through the rest of the week, you continue to use a treatment toner and a recovery Moisturizer. I used the M2 Skin Technologies collection which I loved! The Personal Microderm is said to allow the lotions you use every day to have the best effect possible.
Buy It:
You can purchase your own Personal Microderm online at
SkinCareRx.com
Giveaway
: One VERY lucky winner will win their very own Personal Microderm System ($180 Value)!!!!
(Be sure to read through the details on how to enter)

To Enter (READ CAREFULLY):
On your own blog you MUST write why they want to win the Personal Microderm. Please include the phrase "microdermabrasion at home" and link it to the
Personal Microderm
page. Be sure to leave your link on this page in a comment.
*Extra Entries*
- Share one of your beauty secrets
- Grab my "Catch the Drift..." button
- Subscribe to "Catch the Drift..."
- Follow me on
Twitter
(Mama_Snow)
- Like Catch the Drift.. on
Facebook
- Blog about this post or Tweet it. (Be sure to leave the link)
Rules:
Be sure to leave a comment telling me what the entry is for. Leave a separate comment for each entry. Also be sure to leave an email address for me to contact you. A winner will be selected randomly using Random.org. They will have 48 hours to reply or a new winner will be chosen. ANYONE can enter!
Giveaway Ends: Aug. 17, 2010
Although this product was donated for the purpose of a review my opinions are honest and from my own personal experience.