Even though I love jewelry I struggle with ever buying any. I have two issues that always seem to get in the way.
First, It seems more often than most I feel like I have to purchase a separate piece of jewelry for each and every one of my outfits. I feel this way because I cannot figure out how to make my jewelry work with much more than one outfit. Especially if the jewelry is hip and stylish. So I usually end up getting jewelry I don't really love and something that is basic and not necessarily in style.
Then there is the problem of getting tired of the jewelry you own. I will love something for a while but then get tired of it and wish I could somehow change it around a bit. Now I can!
Chunky Bling
is not only in style, but gives you the chance to mix up pieces of your jewelry so that you can wear it with several different outfits. This is possible through Chunky Bling's
Bead Watches
and their
Interchangeable Watch Bands
,
Interchangeable Watch Face's
. Chunky Bling even carry's
Interchangeable Necklaces
.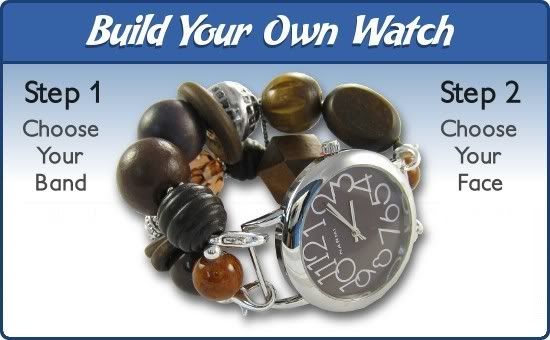 The beautiful chunky jewelry at ChunkyBling.com can be found in every color and gives you so many options to choose from. If you find the perfect watch face, but find two different beaded bands that could give you multiple of outfits to wear it with, purchase them both. Change the bands depending on the outfit your wearing or buy a couple of watch faces and continue to change the bands and faces around so that you won't tire of the jewelry and giving it a new look.
Not only can you find watches and necklaces made with the Chunky Bling style, but you can also find beautiful
Swarvoski crystal rings
,
Swarvoski birthstone bracelets
and several other
handmade bracelet
options.
Discount:
All Catch the Drift... readers can recieve a 15% discount of any jewelry when they use the
code: TASHA422
.
(Expires July 23, 2010)
Giveaway:
One winner will win their choice of an Interchangeable Beaded Watch (winner may choose any combination of band and face).
How to Enter:
Chunky Bling wants to give you double the opportunity to win. Each week Chunky Bling holds a contest
"Name That Bling"
! At this link you will be shown a piece of jewelry and come up with a fun and/or creative name. The winner will receive a FREE watch of their choice!
Go to Name That Bling and submit your jewelry name then come back to "Catch the Drift..." and tell me the name you selected.
(This gives you another chance to win some more jewelry)!
Extra Entries:
- Visit Chunky Bling and tell me one of your favorite jewelry pieces.
- "Like" Chunky Bling on
Facebook
- Grab my "Catch the Drift..." button
- Subscribe to "Catch the Drift..."
- Follow me on
Twitter
(Mama_Snow)
- Become a fan on
Facebook
- Blog about this post or Tweet it! (Be sure to leave the link)
Rules:
Be sure to leave a comment telling me what the entry is for. Leave a separate comment for each entry. Also be sure to leave an email address for me to contact you. A winner will be selected randomly using Random.org. They will have 48 hours to reply or a new winner will be chosen. US and CANADA ONLY!
Giveaway Ends:
July 16, 2010