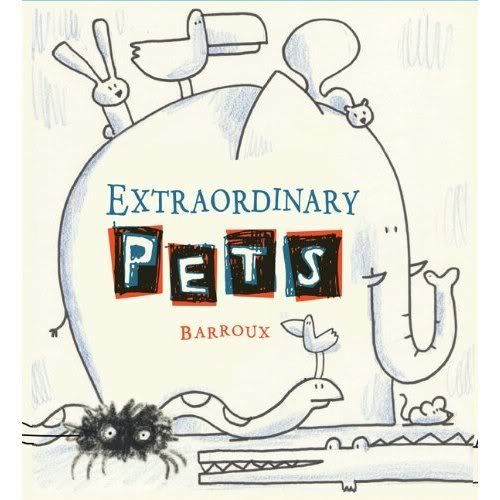 I and several other Classy Closet members have had the opportunity to review several children books. All of which are new and upcoming releases. The first book I would like to introduce to you is "Extraordinary Pets" written and illustrated by Burroux.
Description:
A dog, a cat, a bird, a fish
great pets to have. But if you had your wish
why not choose one out of the ordinary?
Why not a pet who's EXTRAordinary?

Cats are cuddly, but elephants? Exceptional! A Chihuahua is cute, but tarantulas? Terrific! Flaps cleverly transform everyday animals into exotic, one-of-a-kind, perfect pets.

About the Author/Illustrator:
Acclaimed artist Barroux makes his Blue Apple Books debut with a book about an amazing array of animals. Barroux studied photography, art, sculpture, and architecture in France at the famous Ecole Estienne and Ecole Boule. He went on to work as an art director in Paris and Montreal. While in Montreal, Barroux began illustrating by creating linocut images, and he is now well known for his children's book illustrations.
Review:
My children absolutely love this book. Sadly, I don't know if I will ever even let my children have a pet in our home, even if it is just a fish. However, they love animals and this book gave them the opportunity to explore their imaginations as well as dream a little.
I enjoyed how the book used flaps, which allowed my children to guess which pet the author would be introducing next. The artwork was also very fun. The only negative thins I have to say is I wish the book continued to rhyme. I love rhyming books and from the description I thought it would have been written that way. However, my children didn't seem to mind one bit. They enjoyed the book from cover to back. I would defiantly recommend this book to any of my readers with children who have huge imaginations and love animals.
Buy It:
You can purchase "Extraordinary Pets" online at
Amazon
,
Borders
or at your local book store.
This book was donated for the purpose of a review. Even though I was given the book, my review is my very own honest opinion.