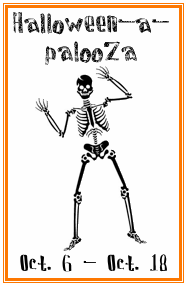 This giveaway is part of the "Halloween-a-palooza". Click on the official "Halloween-a-palooza" button to find more fantastic halloween giveaways!!!
I am one of the many people who loves Halloween. Like you all know, our kids get a little excited for this holiday as well. Even though it is fun for our children to run around collecting candy and attending Halloween parties, it can be stressful for us as we try our best to keep our eyes on them. It is very easy for our children to get distracted and find themselves lost. For this reason,
Safety Tats
has created temporary tattoos which display a parent/caregiver's mobile phone number, helping the parent and child to quickly be reunited if separated. You can also find tattoos for a child with allergy's or a special medical condition.
Safety Tat
was founded by Michele Welsh a mother of three (twins + plus one). Michele is proud to be called a "Mompreneur" and has personally designed, patented and marketed this line of super convenient child safety products. Michele created these products to make her life measurably less stressful, and coincidentally discovered a much needed new market segment.
Review:
I was very impressed as I searched through the
Safety Tats
website. It was nice to read how Safety Tats has made a difference and helped parents feel more at ease. I recommend that you check out all the
testimonials
at the Safety Tats website. Here you can read how Safety Tats has been used for children while attending amusement parks, field trips, play dates and more.
I was excited to be able to receive a set of my own. I was sent some Quick Stick Write-On's and a sample of Original Halloween SafetyTats. I have two very active children and neither of them enjoy sitting in strollers or wagons. My oldest feels he is too old to be confined and my youngest thinks she has to do everything her brother does. Therefor our outings can be very stressful for me. I am constantly trying to keep them buckled up in the stroller straps or trying to run in two different directions while they both take off running. Safety Tats really does help me feel comforted knowing that if they do manage to sneak away from me, they can show their cute tattoo which will help them be reunited with mommy and daddy. These tats are applied easily and stay on. The best part is my children think they are cool and I don't need to fight them to get them on.
Safety Tats can be custom made with your contact information already on the tattoo or you can order "Quick Stick Write-on's" which I received. I like the the option of being able to write on the number of who to contact in case your child is under another adults supervision at the time. If my children are attending a school field trip with a teacher, a birthday party for a friend or an event with a grandparents, it is nice to be able to write down the best number for contact at that time.
Discount:
Readers can recieve 15% off an order of $15 or more!
Use Code:
Hail2theSnowQueen
(Code is case senseitive)
Giveaway:
Three winners
will each receive 1 sample pack our our Quick Stick Write-On! Their choice of Boy, Girl, or a Multi pack.
To Enter:
Visit the
Safety Tats
store. Come back to this link and leave a comment telling me which tattoo and design your child would like.
*Extra Entries*
- Tell about your funniest or scariest halloween!
- Grab the "Halloween-a-palooza" event button.
- Grab my button
- Subscribe to "Catch the Drift..."
- Follow me on
Twitter
(Mama_Snow)
- Become a fan on
Facebook
- Blog about this post or Tweet it! (Be sure to leave the link)
Rules:
Be sure to leave a comment telling me what the entry is for. Leave a separate comment for each entry. Also be sure to leave an email address for me to contact you. A winner will be selected randomly using Random.org. They will have 48 hours to reply or a new winner will be chosen. Open to US and Canada ONLY!
Giveaway Ends:
October 15, 2009