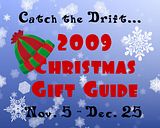 Get a sneak peak at this years 2009 "Catch the Drift..." Christmas Gift Guide! You will see more of these stores starting Nov. 5th. This is when I will begin to tell you more on these wonderful stores and why I and my family love their products or why I want to use their items this christmas as gifts!

I wanted to throw in a variety of ideas, so I have gifts you can use for your children, neighbors and friends. Here you will find gifts and ideas that are educational, handmade, custom made, fun for the family, for that sports fanatic and gifts that continue to give year after year. You will even notice that some stores offered discounts to help you out this season!

Once the event begins you will be able to read on some reviews and participate and fun giveaways!

While your waiting for the fun to begin check out some of these current giveaways going on around the bloggersphere!