I decided I couldn't wait any longer to get these up so I am a bit early on the post. I was so pleased with the response I got calling for all "Cheap and Creative Valentine Ideas". I received so many ideas but I don't have quite enough time and space to post them all. So if you don't see your idea please don't take offense. I truly loved all of them. Please leave a comment telling me which ideas you would like to try! If you have ideas you want to share post them in the comments. We would love to hear them!
Well lets get started…
Touch up with Vinyl:

I do have to start by introducing you to one of my new favorite websites,
E.A.D. Design

.
They have an awesome website full of vinyl lettering and wall art. I think vinyl can be the finishing touches to a great valentine's gift. You can use vinyl to decorate a vase, a clear jar filled with love notes, you could even leave a love note for your valentine using vinyl lettering on a bathroom mirror. (Don't worry it can easily be removed!)
Right now E.A.D. has several
Valentine themed vinyl's
ranging from $4 plus. (You also only need to plan on 3-5 days for order to be processed and then delivered to you). I added the "Valentine Circle Design" to this white plate purchased at the Dollar Store. Now when my special valentine's finishes their plate of cookies they find a special message at the bottom and have an adorable valentine plate to keep.
Love in a Jar:
Find a cheap jar or vase and decorate it with ribbon, hearts or whatever beautifies it best. Now find some pink and white card stock and cut it into strips.
Why I Love You:
Dayna
said, "I then took pretty card stock paper that we had and used pinking shears to cut strips of paper out from different colors of paper. I think I ended up with about 30 strips. Then, on each strip of paper, I wrote one reason why I love him. I then folded the papers in half and mix them up in the vase. A year later, he still pulls a strip of paper out of it every morning to read why I love him!".
*This would also be great time to pull the family together to write several reasons on why they love their Grandma and Grandpa. What granparent wouldn't love special notes from thier kids and grandkids.
All Homemade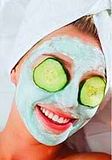 Unwind and Relax:
Claire came up with the idea of giving a friend a small basket of homemade bath and beauty products (you can get instructions online!). This can help someone unwind, relax and feel special on Valentines day!"
Hold on to Those Memories:
Several people sent ideas that included photos of memories. I think photo albums and creating a vidual keepsake are some of the most cherished belongings.
Our Story:
On one of our anniversaries I wrote and illustrated a book I called, "Our Storey". No, this wasn't actually published nor was it even all that amazing. It was very cheaply done, in fact almost free.
I had a friend show me how to make a book using paper, cardboard and thin rope (You could just buy an art book at a art/craft store and use Modge Pod and scrapbook paper to decorate the cover more). Since I love art I drew all the picture and wrote our story of how we met and all the silly things that went on through out our relationship. I made it to our first child and left several pages empty. I always planned on continuing but obviously I am very behind now. Here is some samples.
As you can see I showed the good and the bad moments of our life...
The Album of "Firsts"
:
Heather
created an album of "Firsts". She included things like the first time they met, first date, first time held hands, first kiss, Getting married, honeymoon, first home, first adventure (they went skydiving), first baby, etc. She continued by saying, "I put a picture for each thing and then wrote something about it. He loved it and it was fun to think back about everything. I left a few pages in the back blank so that I can continue to add more firsts that we share with each other. For example we are now going to have a boy and our first was a girl."
The Traveling Mini Scrapbook:

Megan
, who's husband travels a lot, decided to make a mini scrap book for her husband. She will include favorite pictures of them together, their kids and a couple of cards her and her husband exchanged in past years.
The Video Scrapbook:
Claire
said, "I am in the process of making a video "scrap book" for my daughter! It is photo's of me and her father from the day we started dating to today, photo's from her birth and life up until today. I am putting it all to music and adding some creative touches! Once it is all done I am burning it to a DVD so she can watch it whenever she wants!"
Love Letters
Emily had to say this about the love letter. "It is a gift from the heart. and people love to hear how much they are loved, especially by their significant others."
Some ways to make your love letter stand out:
Do a love letter in a bottle
.
You can find cheap bottles at thrift stores, dollar stores and stores like wal-mart. Type or write a letter, tie a string around it and put it in the bottle.
Make an Old Fashion looking Love Letter:
You can do thins by crinkling the paper a bit and burning the edges.
Stamp and Send:
Surprise your loved one by mailing them the letter and use a cute valentines stamp to send it. Even if you do live under the same roof this can be romantic gesture. Even better, have someone deliver it with chocolate or roses!
Romance is in the Air
So wether your able to getaway or even if your stuck at home waiting for the kids to get in bed, you can still create a very romantic night.
Sweet Night:
Ally from
"Mommy Diaries"
explained how this would be her and her husbands first Valentine's Day with their daughter. Every couple they know seems to already have plans on Valentine's(of course) so she is having to create a romantic atmosphere in her own home. Since their daughter is so young, Ally has chosen to focus the day on her hubby. Ally said, " I'm planning on preparing a chocolate fondue, with our favorite fruits that are in season. Gonna set the mood by playing romantic songs in the background. And for decorations, put tealight candles throughout the room. And then watch a movie while snuggling in front of the fireplace."
Sounds romantic to me!
How

Fortun

ate are You:
For some reason I have always thought ordering in Chinese and sitting at home by the fire is romantic. Maybe I am on my own here? One year I did just that. We ordered in chinese and I put together some romantic fortunes before hand. All I did was buy a bag of fortune cookies at the store. I then used a needle to get the original fortune out and replaced it with one I created on my own. Not to get to specific, I filled the fortune cookies with things we could do to each other to.... Well you know, make the night a little more interesting. You could replace the fotune cookies with anything you want from reasons why you love them to creating a sensual game.
Ideas for the Kids
So here is a handful of ideas you can use fir your children or crafts you can do with your children.
You Color My World Valentine:
My favorite idea was from Staci. I really want to try this! She mentioned how she took all of her kids brocken crayons, threw them into a heart shaped muffin tin and melted them in the oven. She then placed them in baggies with a note attached saying, "I made these crazy crayons for you because I am crazy about you! Will you be my Valentine? ".
Here
is a link I found with details on how to make them.
Stained Glass Valentine:
Nicole posted this
link
with a craft idea she heard about. It is these adorable stained glass looking hearts.
Leave Your Print:
Use your children's hand prints/finger prints/footprints to create custom Valentines day cards!
Miranda saw a cute Valentine art project where the kids used their hands to create a heart. They created a scroll made from an 8 1/2 X 11 sheet of felt with ribbons around the edges and then painted the child's hand and had them place them on the felt.
Miranda didn't have a picture, but I thought the picture above may have been similar.
Jello Jigglers: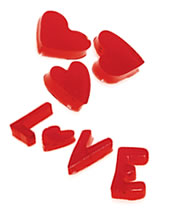 My sister in-law saw a magazine that had valentine ideas using Jello! She said that they put different things in the jello like candy hearts, kiwi or sprinkles. After the jello was set they used cute cookie cutter s to cut out hearts and words, like "I Love You". Here are some instructions I found when wanting to use cookie cutters with Jello.
Pour into 9 x 13-inch pan. Refrigerate at least 3 hr. or until firm. Dip bottom of pan into warm water about 15 sec. to loosen Jell-O Gelatin.
Cut Jell-O Gelatin into decorative shapes with Valentine's Day cookie cutters, or use cookie cutters to cut out the words "love" or "sweetheart."