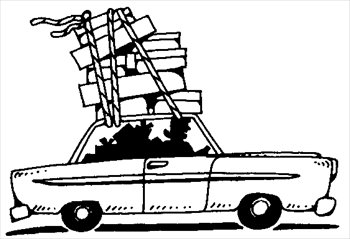 You can pretty much count on me to not be around on the blog for the rest of the year. In fact, it may be for the next month or so. Here is what's up....
BIG MOVE:
My husband got a great job opportunity last minute which required us to move out of state. This was just a little over a month ago. Since, our lives have been incredible crazy. Not only have we had the Christmas season to worry about but also, putting our house up for sale (Which we actually sold), Selling a car, dejunking our home, finding a temporary place to live while we have no clue about the area, finding a new school..... Basically the list could go on and on. My husband has had to be out of town 3 weeks in the last month which has left me to do a lot of the list on my own. Then there was the 2010 Christmas guide. I just couldn't let my readers and down so let's just say "Major Overload"!
We our officially moving the end of this month (shortly after Christmas) and for the first of the year (2011) we are going to be going through allot of transitioning. New schools and searching for a more permanent place to live while we live a temporary hotel. Oh yes, we have decided to make this a full on adventure and live in a one bedroom suite for the first month. We had an apartment selected, but last minute we decided with our furniture and everything being able to be stored (on the company) for a month, that we should just take a month to get familiar with areas and see if we can't find a home right away or come up with a more clear decision on what would be best for us during this time. It has been extremely hard for us to think through everything with all that's going on.
So for now and the next month or so, I will not be around much on "Catch the Drift...". I will have internet access so there is always a chance I may make a post our two, but I will not have the time to search for great deals and reviews until we get more settled.
Until my life gets back into order I wish you all a very Happy New Year!