It's no surprise that
Hasbro
has grown to become a household name. Hasbro has brought to us some of the greatest classic games of all times such as Monopoly, Sorry, Battleship and more. Now that summer has officially begun we can enjoy these games and more. Hasbro is always providing new and improved games for you and your family.
Since summer is the time to travel and be outdoors, it is important to find games that can be easily packed and taken out doors as well. Hasbro carries a great selection of card and electronic games. These are perfect for long drives and camping trips. You can also find card and electronic games for all ages. I had the opportunity to review two of Hasbro's Summer Games and I am so excited to share with you what I thought.
Gator Golf: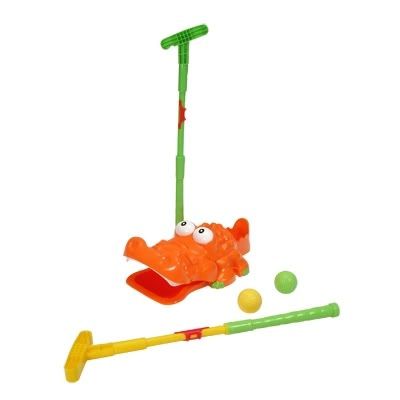 Gator Golf includes 2 putters, 2 balls and easy instructions on how to play. The rules are very simple and allow you to bring home your own mini golf course. You simply hit the ball into the gators mouth and once it goes in the gator flips the ball back out for you to hit again. This is a great game for children ages 3 and up. My two year old has even enjoyed it!
My children enjoy this game because it is so active. They also like the fact that it can be used indoors and outdoors. They have use it in our house as well as outside. This is a larger game but not hard to pack in the car and take with you to a park, etc.
Electronic Catch Phrase:
This is a MUST HAVE! I grew up playing the original version which had several pieces, cards and had to be kept in a box. The cards were getting bent and lost and because it was a family favorite it eventually got its use and went to the trash. Since I have been married, I have been wanting this game back in my home. I am so glad I never purchased the old version because now Hasbro has made it even better and made it "electronic". This leaves us with no extra pieces and a game that we can take anywhere. Electronic Catch Phrase is perfect for a family with older children (ages 12 and up) and/or large groups of 4 or more.
This game is all about speed and saying anything and everything except for the word your team is trying to guess. This will leave you and your friends laughing. This game almost always causes me to end up crying from laughing so hard. This is the one game we will always have with us when we travel and when we invite friends over. I highly recommend getting this game or replacing your old version if you haven't done so yet. It will be well worth the money spent.
Hasbro
loves hearing from their fans so be sure to "like" Hasbro on Facebook. Post your favorite games and game moments on
Hasbro's Facebook
page.
This product was donated for the purpose of a review. Even though I was given this product free, my review is my own honest opinion.