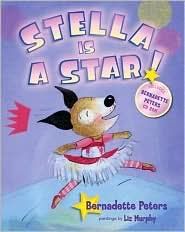 Synopsis
Bernadette Peters and Liz Murphy the terrific team behind the New York Times best-selling Broadway Barks are back with a story about Stella, a pup who would rather be a graceful pig ballerina than what she really is: a dog no one seems to like.
Stella learns the lessons of self-acceptance, following her heart's desires and, most important, that it's okay just to be herself.

Author
Many of you know Bernadette Peters from her stage career on Broadway and in theaters and concert halls around the world. She is cofounder, with Mary Tyler Moore, of Broadway Barks, an annual star-studded animal adoption event benefiting animal shelters throughout the New York City area. Her passion for animals and her work on behalf of the organization are the inspiration behind this book.
Review:
This book is a
MUST HAVE
! My daughter who loves animals and ballet, loves it. I highly recommend this book because of the great lesson it teaches.
When my children and I first opened this book, we used the CD which was included. Bernadette Peters did an amazing job telling the story. I think both my children prefer listening to her telling the story over me. The CD also includes the song at the end of the book. This gives your children the opportunity to sing along.
"Stella is a Star" really does teach your child self-acceptance and to follow one's dreams. It teaches your child that if they are motivated and positive, they can accomplish anything. The story is written perfectly so that your child can understand its purpose. My son immediately started asking questions regarding Stella and why she wanted to be a pig rather than a dog. It gave me the great opportunity as a mother to teach some of these important life lessons.
Buy It:
You can purchase your own hardcover copy with the cd included at
Amazon
or
Barnes & Noble
.
This book was donated for the purpose of a review. Even though I was given the book, my review is my very own honest opinion.